So much of what marketers write about involves numbers and analytics. Clicks on a blog article, followers on Facebook, open rates on email campaigns: these are essential data points that help companies determine what converts strangers into leads and which strategies are not worth the spend.
Yet, sometimes we get so caught up in the nitty gritty numbers that we forget one important thing about marketing: customers don't buy just because they received a certain number of emails. They buy because they respond emotionally to brands.
One study conducted by Singapore Management University determined that customers need to associate high levels of trust and low levels of perceived risk in order to feel comfortable buying from a website. No surprise there! It is human nature—the more you trust a brand or a person, the more likely you are to do business with them.
When developing your marketing strategy, content, and copy, don't forget about the importance of cultivating brand trust. If you are unsure of where to start, follow the lead of top companies. Employ a few of their strategies, outlined below, to build brand trust throughout the buyer's journey and attract more customers.
1. Feature trust seals to increase perceived website security.
Yankee Group Research, Inc. (now 451 Research) found that more than 70% of customers think it is important for ecommerce websites to feature a trust seal or logo on their pages.
---
More than 70% of customers think it is important for ecommerce websites to feature a trust seal on their pages.
---
This statistic demonstrates that when it comes to building consumer confidence, trust seals can go a long way. Note that this does not mean that websites with trust seals are actually more secure than websites without; rather, trust seals help website visitors feel more secure—and that feeling can be the difference between someone abandoning your company's website or becoming a loyal customer.
Source: Shopify
A study completed by Baymard Institute compared three types of trust seals: Secure Socket Layer (SSL) seals that indicate a website's technical security, trust seals from third-party authenticators like Google, and "fake" seals that were homemade. The study asked participants to choose the seal that gave them "the best sense of trust when paying online."
Norton's trust seal heavily outperformed the competition thanks to its brand name being synonymous with a long history of security, but you will notice in the chart below that even a fake seal performed well; 6.1% of respondents chose a made-up seal when asked to select the badge that made them feel most secure when paying online.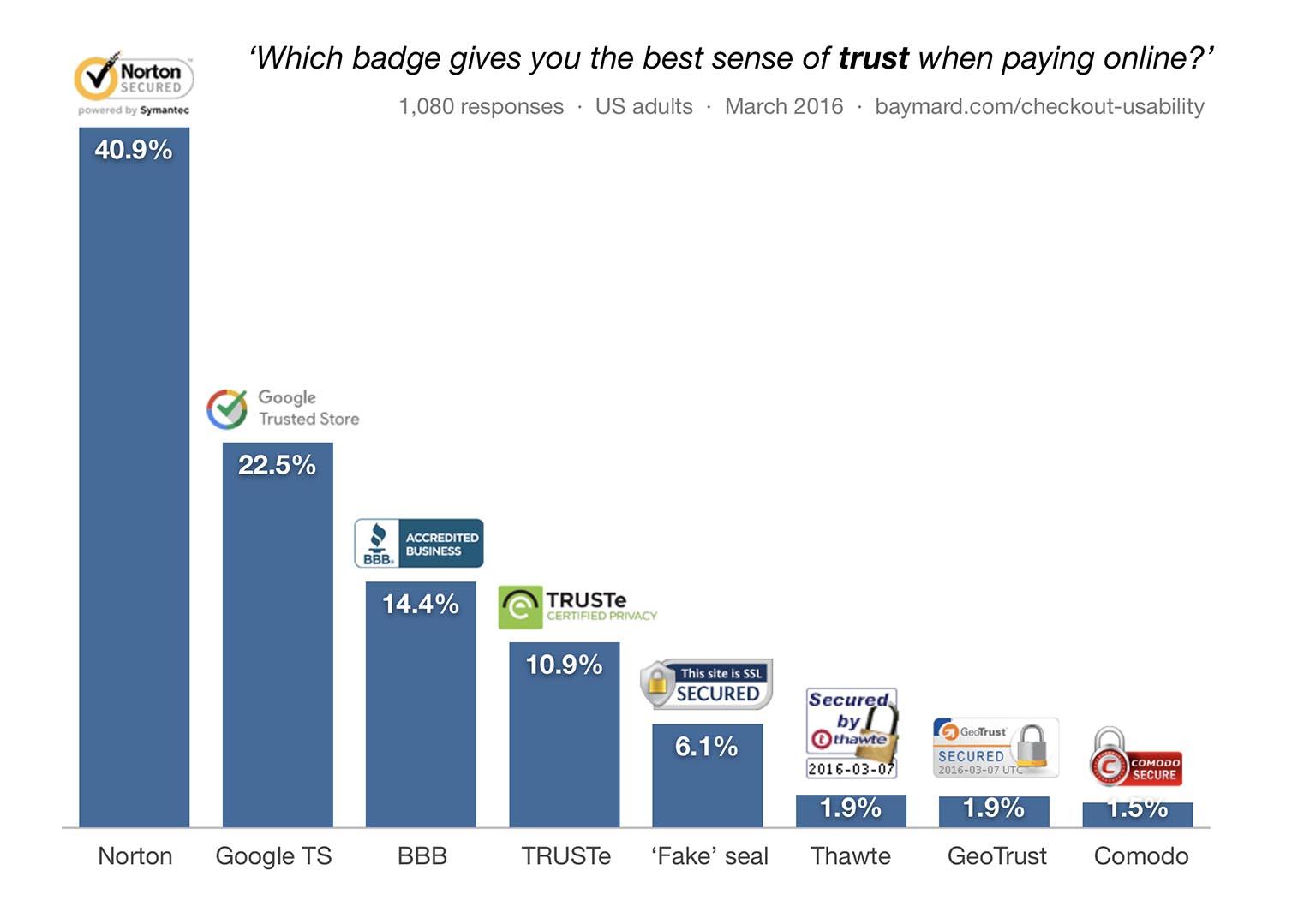 Source: Baymard Institute
The results are telling: a website with any trust seal is more trusted than a website with no seal at all, even if the logo is made up and does not actually add any security to a website. Top companies like Best Buy understand this, which is why they feature two seals from third-party authenticators on their website (and pages that explain these trust seals).
Source: BestBuy
Follow their lead and help your website visitors feel a little more comfortable—feature a trust seal or two on your homepage and/or near opt-in forms designed to gather visitor contact information.
2. Utilize visual design tactics to promote confidence during checkout.
Baymard Institute also determined that checkout pages employing visual design tactics—such as offsetting their credit card form section in a different color or adding a small padlock icon next to payment form fields—tend to be perceived as more trustworthy than checkout pages that do not.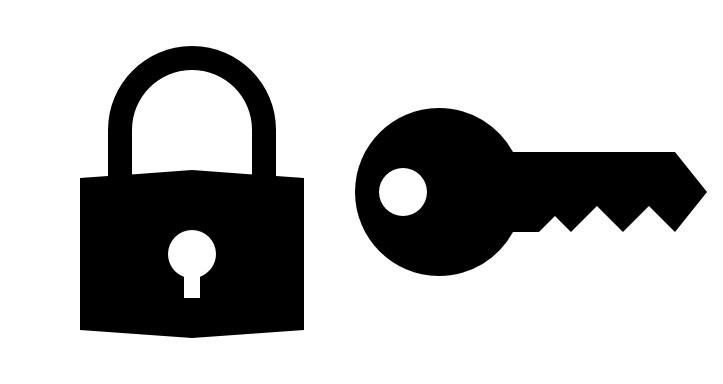 Examples of "made up" icons that can help viewers feel more secure.
Crate and Barrel utilizes this strategy throughout its checkout process. The strategically placed padlock icon combined with adjectives like "safe" and "secure" is meant to increase brand trust and remove one potential objection to continuing the checkout process.
Source: Crate and Barrel
3. Employ social proof

84% of people trust online reviews as much as a recommendation from a friend. That is what BrightLocal discovered during its 2016 Local Consumer Review Survey, in addition to these powerful statistics:
Nearly 75% of consumers state that positive reviews increase their trust in a local business
90% people read fewer than 10 reviews before forming an opinion about a company
---
90% of people read fewer than 10 online reviews before forming an opinion about a company.
---
Positive reviews, testimonials, and case studies are so powerful because they provide social proof—evidence from other people that your business delivers on its promise and provides a great customer experience.
They can help potential customers decide which type of solution best addresses their problem (for instance, if I need to move out of my apartment, should I rent a truck and do it myself or hire movers to do it for me?) or choose which company to spend money with (Moving Company A versus Moving Company B).
The best businesses leverage this power by consistently gathering reviews, testimonials, and case studies. Yelp's business owner page features several strong case studies from business owners who have seen great success using their paid services, complete with:
Photos of the reviewers
Powerful quotations
Recommendations for specific Yelp services
And even videos!
Source: Yelp
Because Yelp is an online review service, it spends a lot of time and money developing stellar reviews and case studies. That is exactly why other businesses should take note: the company understands what it takes to form strong emotional bonds with potential clients and is using that trust to fuel business success.
Follow their lead and your company is sure to increase brand trust and attract more customers.
Struggling to build brand awareness for more business? We can help with that.
Schedule a consultation with our marketing professionals today.