More than half of all website visitors spend less than 15 seconds on your site. In the blink of an eye, they've decided whether they're going to convert or bounce. Are you blowing your conversion chances with generic button copy?
Yes, there are many components to a successful landing page. Everything from persuasive headlines and eye-catching visuals to trust-building testimonials and a clear value proposition can make a difference. But hands down, the most important element for your landing page is the call to action button copy. Really.
These four quick copywriting fixes will get your conversions back on track:
1. Ditch the generic copy.
Don't waste premium button space on generic copy. Banish copy like "submit" and "sign up" from your vocabulary. We all know we are "submitting" information or "signing up" when we click on a button. There's no need to use button space to tell us something we already know. Instead, use button space to reinforce your value proposition and drive action.
The example below comes from a medical products service company.


This CTA has a number of problems, starting with the fact it's buried at the bottom of a very cluttered home page. But let's talk about the button copy right now. They're using "sign up" as the CTA for their email marketing newsletter. This copy doesn't offer any value proposition or give prospective leads a reason to join yet another marketing list. An easy way to make it better? Copy like "Get Deals" or "Get Your Discount" immediately offer the lead a personal, compelling reason to join the list.
2. Keep it short.
Buttons are not a place to be verbose. Best practices for button copy length are three to four words max.
3. Be Clear.
Don't leave your lead wondering what they're getting when they click the button. Spell out exactly what will happen. If you're offering a free eBook after your lead completes a lead gen form, be clear that your lead can immediately download the content. If your lead is starting a free trial, say that.
Here's a great example from HubSpot. There's no mistaking what will happen as soon as the lead clicks on the big blue button.


Here's another great example from Upwork. This page touts the benefits of Upwork's expansive freelance graphic designer community. Again, the button copy is clear and straightforward. By clicking the button, you'll start your search for the perfect freelance designer. Yep, it's that simple.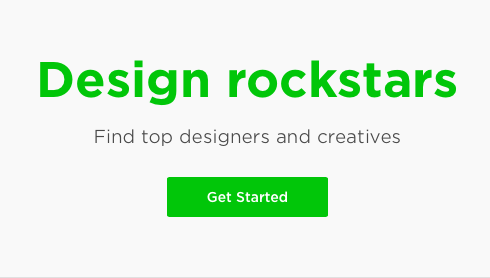 Personalize it.
Back in 2013, a HubSpot study found that personalized CTAs convert 42 percent more visitors into leads than untargeted CTAs. Fast-forward three years later, and personalized CTAs are still an absolute for businesses. What do I mean by personalized? It's more than just avoiding a generic phrase like "submit here". Personalized CTAs do two things. They directly speak to where your lead is in the sales funnel and prompt action with compelling, authentic messaging.
For example, let's say you're trying to get your lead to start an online chat about your services. An example of impersonal copy is "Live Chat Now". Sure, it this copy follows Rule #3 (Be clear), but it feels pretty impersonal. I'd change this to a more engaging message like "Let's Chat". This copy feels friendly and approachable– exactly how you want to feel when starting a conversation.
Next Steps: Identifying and Fixing Landing Page Copy Mistakes
How do you know if your landing page is underperforming? You don't need to be a rocket scientist to spot the problems. Start with a quick review of your Google Analytics metrics:
Bounce rate
Conversion goal rate
Navigation
No single metric tells the whole story but together with a heat map, these metrics give a bigger picture view of what's happening on your site.
At Frozen Lemon Media, our team always recommends A/B testing different CTAs, button colours and copy options. If you don't have time to run a longer test and need a quick fix, simply swapping out a generic CTA with personal, compelling copy can make a huge difference for your conversion rates.
Go ahead– give it a try and let us know!