What is a lead magnet? Why do the most successful businesses use them to generate more online leads (prospective customers who have provided their contact information) that could become customers down the road? And how can even companies with little to no marketing experience create powerful lead magnets?
Read on for the answers to these common questions, and learn how to start landing more leads today.
What is a lead magnet?
First thing is first: a lead magnet is an irresistible offer in exchange for a prospect's contact information. For instance, an investment company could offer a free white paper about retirement accounts, available for download after the contact provides his/her name, email address, and phone number.
A sample of a lead magnet from our very own website (in fact, you can still download this fantastic Website Blueprint guide—just click on the link here):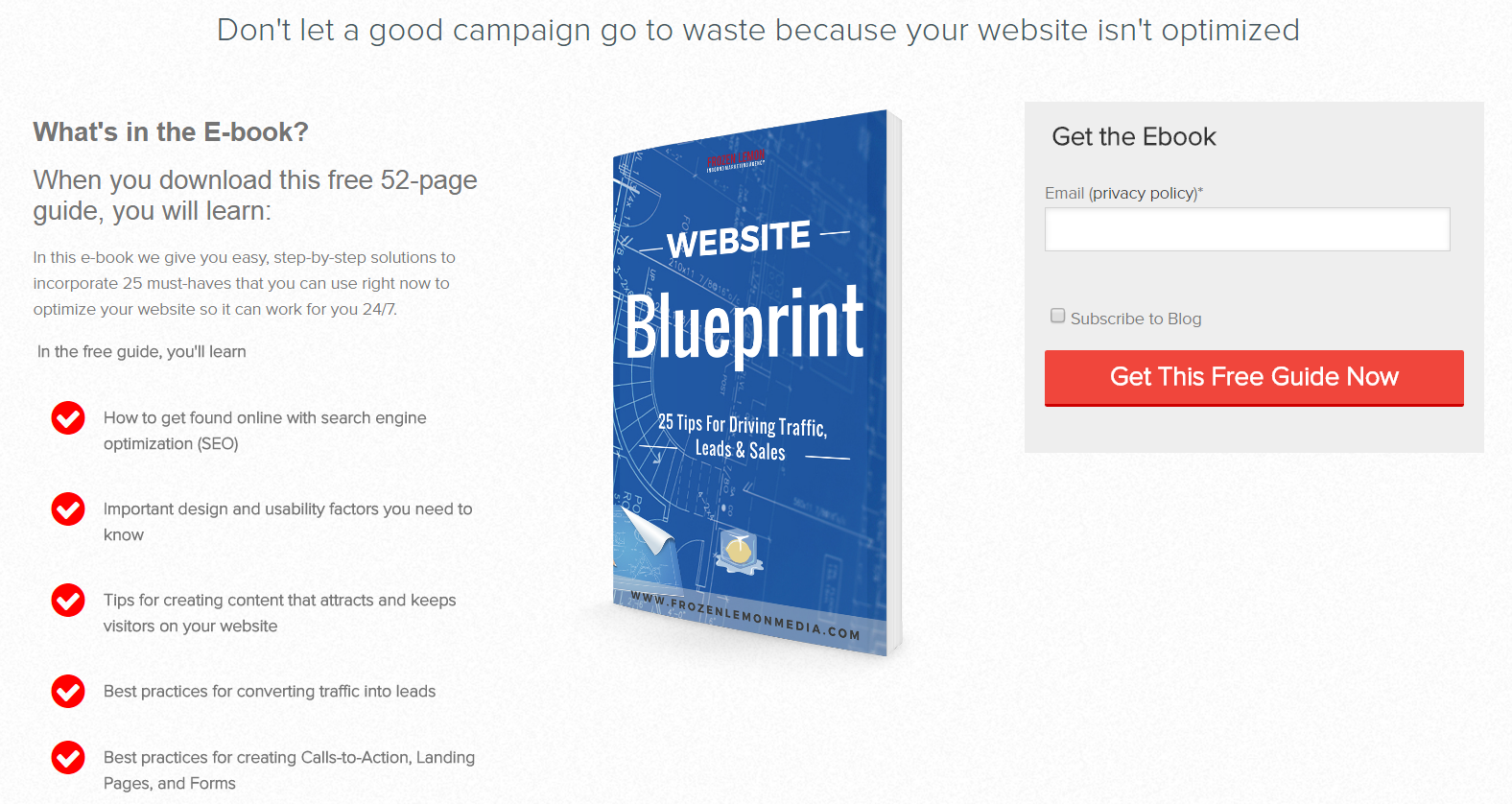 There are several benefits to using lead magnets.
Continuously reach new contacts
Qualify new and existing contacts, i.e., learning more information about their specific preferences and interests so your company can position its products or services to appeal to these partialities
Long-term appeal if the subject matter is evergreen—sure, companies must invest time and resources at the start to create the lead magnet but then they reap the benefits for months and even years
Replenish a degenerating leads list (research completed by Hubspot and Marketing Sherpas estimates that roughly 22.5% of a company's leads list becomes worthless every year)
How effective are lead magnets at gleaning contact information?
Digital Marketer reports that their lead magnet—a Facebook advertisement template library—generated nearly 36,000 leads in just 60 days. Woah.
While these results may not be typical for every company, this statistic surely demonstrates the power of a well-developed lead magnet.
What are the elements of a well-developed lead magnet?
A well-crafted, successful lead magnet will be:
Geared toward your targeted audience
Specific
Valuable
Instantly gratifying
Let's dive into each of these characteristics to understand exactly how your company can create a lead magnet to grow your list today.
Characteristic #1: Geared toward your target audience
Imagine a craft coffee company—let's call them Coffee Company A—crafted a beautiful, valuable lead magnet. The marketing team spent two weeks developing a responsive ebook… about how to file taxes more quickly and easily.  I think you see the problem here: the company should not expect to see a strong response to their lead magnet because the subject matter does not match their target audience's interests.
In order to craft a successful piece that attracts loads of promising leads who may actually purchase your product or service in the future, you must appeal to your target audience's interests while discussing a topic that is related to your product or services.
A great example of this is Audible, an audiobook service. The company offers a free 30-day trial plus a free first audiobook, among other benefits. Is this offer relevant and appealing to the company's target audience? You bet.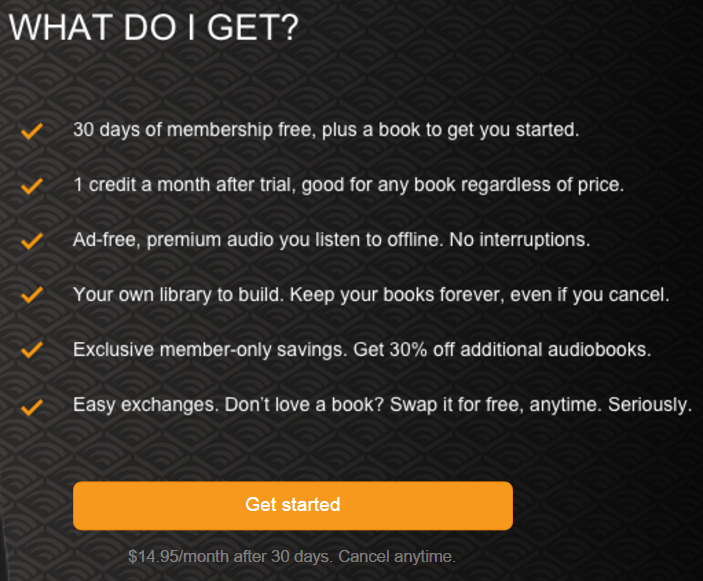 Characteristic #2: Specific
Similarly, good lead magnets focus on a specific solution to a specific problem. It is not enough to merely highlight an industry topic; you must hone in further and address a specific issue that your audience is experiencing.
Coffee Company A from the example above, for instance, might notice that a large portion of their existing customer base struggles with one specific problem: choosing the right kind of coffee bean for them. With so many choices, they simply don't know what kind of coffee beans from which area of the world most appeals to their palate.
The company could make a quick 15-question quiz titled "Find Your Perfect Coffee Soulmate With the Help of Our Expert Roasters," to help prospective customers identify their ideal coffee type. At the end of the quiz, participants must enter their email address to receive the results.
This not only addresses a specific problem that prospects are experiencing, but also provides the perfect bridge from the lead magnet to Coffee Company A's services. Found that your perfect cup of coffee is a light, buttery roast from Asia? Great—our Asian Blend Light Roast is right down your alley, and we will offer you 20% off your first bag!
Staples, the office supply store, did something similar with its "What Kind of Business Should I Start?" quiz:
Characteristic #3: Valuable
Would people say "Wow!" when they see it? Is the item irresistible? Is this better than what anyone else is offering in the industry?
If the answers are yes, then you have a valuable lead magnet on your hands. Take this example from the website of James Clear, a writer focused on "behavioral psychology, habit formation, and performance improvement." He offers a hulking 45-page guide chock full of advice for breaking bad habits and establishing good ones, based science and research. An entire book… for free!
However, not all lead magnets have to involve weeks of work or go on for pages and pages, as long as they provide instant gratification to recipients… which leads us to our next point.
Characteristic #4: Instantly gratifying
Prospects will provide their contact information if they get something valuable in return—fast. Do not make prospects wait to receive the information they signed up for. A 4-video course that releases one video every week, for example, is sure to alienate prospects.
By the end of the fourth week, leads will be so frustrated by the pace of the series that they will be unlikely to purchase anything from you in the future.
Take a page out of Social Media Examiner's book. They offer a free educational piece called the "Social Media Marketing Industry Report," and use verbiage like "instant download" to ensure that prospects understand they will receive the goods immediately.
Don't forget about a powerful landing page and delivery system (discussed in the next article!).
Crafting an ideal lead magnet does not automatically translate into leads. To gain qualified leads, you still have to develop a promotion system to generate attention and craft a powerful landing page that prompts readers into providing their contact information…
Which is the exact topic of our next article. Click here to go to the Frozen Lemon Media blog page and sign up to receive email updates, so you don't miss out on this essential information!
Want a lead magnet that generates qualified leads for your company?